Turning old Window Frames into stunning Mirror
Date Posted: August 30, 2013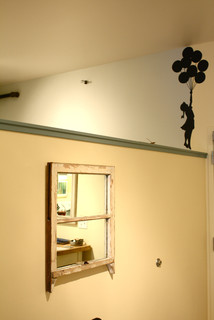 Whether you are replacing your home's old multi-panel windows with modern double glazing or have managed to get hold of some old, glassless windows of a recently demolished cottage, there are dozens of ways in which you can re-use these old frames. Here is one of them.
Create a Mirror Gallery
This idea is particularly suitable for single or multi-pane window frames that have lost their glass. Here's how to turn your collection of preferably differently sized / shaped frames into a stunning mirror gallery.
Preparing the Frames
Strip frames of old paint and sand them ready for priming / painting.Get a selection of mirrors or mirror tiles – available from most home decorating / DIY stores – to adequately cover the areas where the glass should be.Attach strips of wood roughly the same thickness as the mirrors to the frames ' top, bottom and sides to create areas for the mirrors to drop into. If using mirror tiles for multi-pane windows, this obviously needs to be done around each section.
Painting the Frames
To prevent getting paint onto your mirrors, prime and paint the frames next. Rich, deep colours like h14 gaga, k23 avocado or h24 prague, for instance, in the flat finish of eicó Alterior Eggshell will provide a rustic feel and look great when set against light coloured walls.For a funky, multi-coloured mirror wall, select fun colours like g19 chawla hul, g17 blamanche or e22 moroccan sunset and/ or b4 gypsys luck out of the slightly shinier eicó Alterior Satin or the shiny Alterior Gloss colour palette.
Metallic finishes like q20 fairytale, q32 pink champagne or q31 sapphire – all available within eicó's Alcro Metallic range – will add a hyper-modern, 'space – age ' like appearance. The best bet is to get a free colour card from eicó and see which colours will suit your ideas best. If in doubt, it is always worth getting sample pots and trying out varying colour combinations before committing yourself.
Should the decision which colour to go for be impossible because you simply can not find the colour/s you really want, you can always ask eicó's experts to create exactly the right colour/s you have in mind for you. Just send them a sample of the colour/s you need and they will match and create exactly the right hue/s for your purpose.
Finishing off your Mirrors
Once the paint has dried completely, drop the mirrors/ mirror tiles into the prepared spaces and secure them with the help of metal corner brackets and short screws. Attach hooks or chains (chains look particularly effective with 'rustic ' style mirrors) and hang your mirrors on your chosen wall.
Hanging them in an almost 'random ' pattern, by the way, is usually far more effective than simply lining them up in 'neat ' rows. A mirror gallery like this not only looks highly attractive, it will also create an illusion of space and bring more light into the room by reflecting available light. It should, however, be noted that hanging mirrors on a wall opposite a south-facing window may result in a rather unpleasant glare, and should therefore be avoided.
Any more Ideas?
Have you come across other ideas of re-using old window frames? We'd love to hear about them – tell us about your ideas or simply let us know if you consider this post to be useful by using the comment form below.
Next Post: Alan Dodd – A Brush With Genius
Previous Post: Photo-Wall effect with eicó paints
Colour specialist—
We have over 10000 of our own eicó colours, which can be applied to every wall and floor finish. If however you cannot find the exact colour, we can work with you to create or copy any colour of your choice. We can also help you build your own unique colour range.
For more information, please contact us.
Polls—
Latest News—
Newsflash—
If you have a long thin room, and you would like it to feel more square, then try painting the 2 short walls in a darker tone (say 50% darker) than the 2 long walls. The result will be that the 2 darker walls will have a greater impact on the room and have the effect of bringing them closer together – thus making the room feel more square.